Saturday, December 3, 2016

/ 32 Comments
Simple Christmas Crafts for All Ages
Well here we are Dec. 3rd and

Christmas

is on the way. Again!!!!. How does it come around so quickly?
The link-ups and guest posts have been so full of great

Christmas

craft ideas that I couldn't help but share this with you to get you inspired and call up all your family and friends and start crafting.
There is nothing like something homemade to really put you in the mood for a great

Christmas

season.
Grab a cup of hot chocolate w/ marshmallows or apple cider and let's chat shall we?
Now a few years ago my friend Kelly at Simple Life Mom wrote an entire article about saving money and making your own homemade holiday. These felt ornaments are just the cutest ever. The sky is the limit here. I just love gingerbread people do you?
These homemade Christmas Cards are so easy to make and the kids and adults can do it. Wesen's Art is so inspiring.
Now I am always playing around with ideas that are both affordable and cute and on a trip to the dollar store I found these cute cut-outs so we made our very own

Gingerbread Garland

. The how - to is here. People have just fallen in love with this garland because it's affordable and it lasts for years.
Lindsey at Chickadee Homestead is a nature loving girl and is just so clever. She made that oh so pretty evergreen table centerpiece for next to nothing. The girl has skills. You can read all about how she pulls off a frugal and cute Christmas here.
Now if you have been around here for awhile you know that I love to garden and have toyed with the idea of a Fairy Garden but haven't gotten around to it. Mainly, because Spring/Summer is our busy season.
Now I just need to say Brandy over at Gluesticks is a genius. Really, she is. She made a

Christmas Fairy Garden

and it is sooooo cute. I can do this. You can do this. We can all do this. Thank you Brandy for thinking outside of the box and bringing this idea to us during Christmas.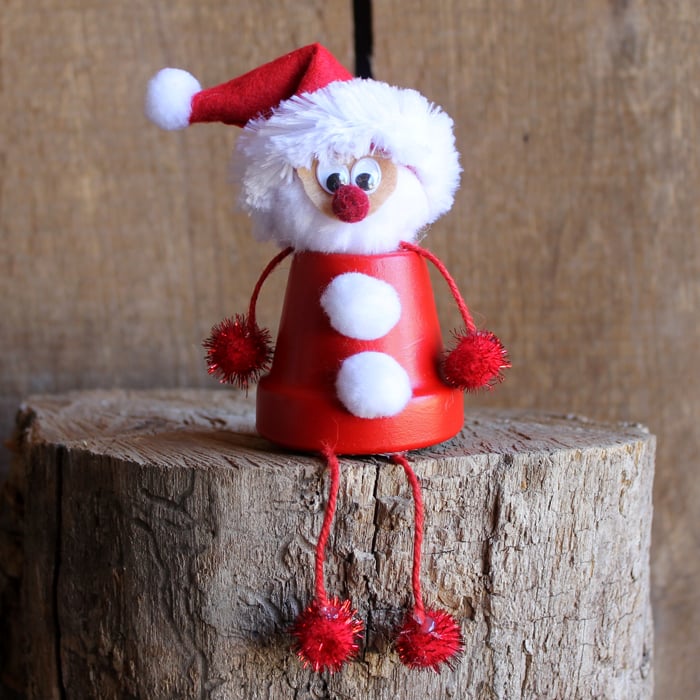 Now Angi at Country Chic Cottage is always full of the cutest ideas ever. Only Angi would make the cutest

Santa

ever and make it colorful and affordable. Isn't he so cute?
I love that his little perch is a tree stump. Don't you?
Be sure to bookmark or pin which crafts you like so you don't forget about them.
*** If you are reading this in a reader be sure to click through onto the blog so you can get to the links where all of the instructions to make this inspiring crafts are.***
If you'd like to see some more inspiring Holiday Decor check this out.
Now if you like DIY stuff check out this.
Now tell me what is your favorite Christmas Craft you've ever made???
I can't wait to hear?
Happy Crafting,
Valerie
Sharing with
Met Monday
christmas decor
christmas decorating
Christmas Decorations
ChristmasDecorations
cottage christmas decor
cottage christmas decorations
craft projects
crafts
DIY Projects
Last Minute Christmas
Related Posts