Thursday, May 8, 2014

/ No comments
Gardening in All Spaces Green Thumb Thursday #2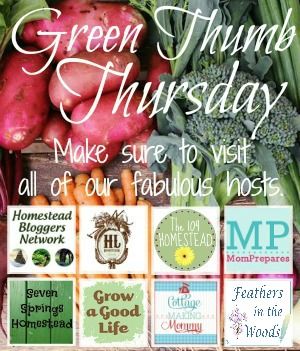 Welcome back to the 2nd week of Green Thumb Thursday.
We are finally getting some much needed rain overnight in our area so it means we can start working back in the yard in the next few days.
There were so many great posts from last week so it was hard to pick just one to feature but I settled on Zucchini Bourbon Cake at Happening at My Little Farmhouse
I love Zucchini and my grandparents always enjoyed Bourbon so how could you go wrong with it?
Make sure to visit the other co-hosts to see if you were featured.
Now the rules are simple for the blog hop
1. Add up to 3 links that are garden related 2. Link back to the host so everyone can find the party. 3. Please be social and visit some of the other party goers. Make sure to check back next week to see if you were featured. Now on with the hop

Related Posts