Saturday, November 5, 2011

/ 25 Comments
Inspiration to Warm Up the Outside of Your Home
With Winter's chill coming early this year I have been looking for some ways to brighten up the outside of the house that are both pretty and affordable and also something that can stay out all Winter.
I really love these empty hanging baskets. I have plenty of them I just don't know where I would hide the cord for the lights. Hmmm?
Aren't these lanterns adorable. Someday when I build my dream house I want brick arches in the entryway with gas lanterns and a flame as the lighting.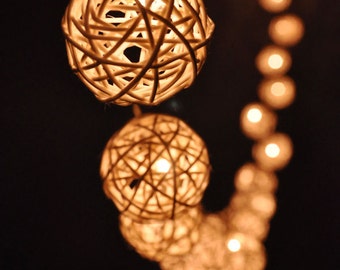 These are too cute. You know you can make them very cheaply with twine and Christmas lights and use them year after year. I happen to think it's a great project for the whole family.
A very simple heart wreath that's lit up.
A few colorful votives next to some pumpkins on a front porch table would be adorable. The only thing is the candles would melt down quickly. I wonder how some white Christmas lights. intertwined would look.
It just so happens I have two of these wreaths with bright red berries that are looking to be hung up on my door and my mom's door right after Thanksgiving.
My favorite, a simple pile of twigs with intertwined white Christmas lights suspended from the ceiling of a porch with rope. I happen to have alot of experience in suspending trees with lights from the ceiling. My entire gift shop was decorated that way and I loved it. We even had fake leaves. It was beautiful!!!
I sure hope you get some inspiration for outdoor decorating from these pictures. I know I have.
Stay warm and Winter blessings.
XOXOXO,
Valerie
Tidy Mom,Tatertots and Jello, Flaunt It FridaySaturday Night Special,Under the Table and Dreaming Met Monday Lindas Coastal Charm No Place Like Home
autumn
fall
outdoor decor
winter
Related Posts